There is one thing that has made a huge impact within the past 20 years. It's called gaming. Most of you have heard of it in one fashion or another. When I lived in The States 2 years ago, I was 'a gamer' - a trendy little label placed on nearly anyone who liked to play those sorts of childish things. Over time, gaming has grown to be a lot more socially accepted but total integration is still quite a ways away.
A great deal of this uncanny spread of universal acceptance is due in large part to influences from standouts such as the Nintendo DS, the Wii, Guitar Hero and World of Warcraft and casual gaming in general such as Bejeweled. However before all of these mainstreamers, 'gamers' were a feared and reviled sort - the classic imagery of a greasy nerd plugging away is still pervasive to this day. Even within China quite a few expats have given off the impression that it's beneath them to even touch a computer or gaming system. Apparently if you don't have a backpack strapped to your back at all times, you're not living.
This mentality of the vile 'gamer' label and all the negatives associated with it are almost completely debunked in China where it's assumed that guys play games while surfing the internet and ladies frequently instant message via QQ (China's MSN/AIM etc - although quite a few have been wandering over to Skype these days as well) The fact that it's more socially accepted in China is ironic since China is often viewed as the closed-minded one in the international tug of war, (the acceptance rule also works with Japanese cartoons).
Not only is gaming more accepted, but it's becoming a conglomerate beast coiled and ready to engulf everything in its path. In 2005, Chinese MMO players (a MMO is a PC game where players are in a virtual world over a network with one another) spent 500 million dollars. In 2007, MMO players spent 9.36 billion Yuan (1.2 billion US dollars) and in 2008 there was a 57-percent increase. In World of Warcraft alone, the subscriber base is 3.5 million active subscribers (which generates about 52,500,000 Yuan per month).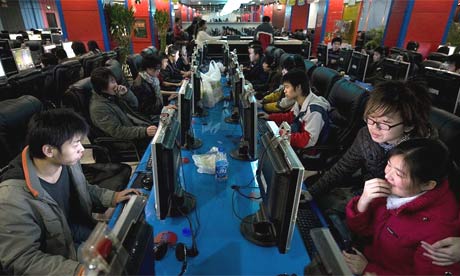 China contains an undulating 59 million online gamers. Despite the fact that 47m of them play free-to-play games, this is a massive amount. To put that into perspective, the 2007 estimate of England's population was 51,092,000 while the 2008 census quoted America as having 306,068,000 million people. Imagine the entire country of England plunking down and playing a game everyday. Keep in mind that these are only online PC games. There's far more systems: the Xbox 360, Sony PSP (I've seen so many girls play this, I can't even count) Nintendo DS, Wii, PS3, PS2 and arcades in nearly every major city.
With so many active players, it's no wonder to see popular advertising campaigns from companies like Coca-Cola, who featured World of Warcraft art on their soda cans and bottles in the past and have recently made a commercial for the online game.
This success from every corner of China was additionally shown in a welcome event during the '08 Beijing Olympics. This event included competitive gaming, contests, was covered by the media and had the government's personal stamp on it. The kicker was that the contest was held in a football stadium. The government has said they view gaming as an official sport but that's simply spectacular.
In addition to sporting successes, developer studios have been hatching at an alarming rate. According to Kotaku, a GDC is to be held in Shanghai in August 2009. This will be China's first Game Developers Conference, "it's aiming to cater specifically to the Chinese market, promising a 'by China, for China' approach. It's also hoping to serve as a gateway between the Western and Chinese markets..." and "...is aimed specifically at promoting and supporting the vast Chinese game development industry," says Rob Fahey.
With China's economy ever-increasing and the spending on online gaming doubling from 2007 to 2008, it's only a matter of time before more turn to gaming and Chinese games start dominating the gaming market. Then the next giants of the gaming world will emerge.